Today, I am thankful for not only my job, but also for the ability to work at a place that will let me get off to see wonderful things like this :
My youngster's Thanksgiving skit
And a place that even gives me free tickets to see this:
Boy, am I blessed!
Care to join in on the fun? Create a post each day, sharing one thing that you're thankful for that day! Feel free to grab/post the button on your blog so that others can join in, too!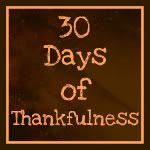 Add the link to your blog if you're joining in on the 30 Days of Thankfulness fun!