Today, I am thankful for fall.
My girls and I took the dogs for a walk. The weather was mild enough for my daughter to ride her bike without her coat, while my youngest got to crunch along in all the leaves piled up on the sides of the road.
I wish I could have gotten pictures to share, but...I had one hand holding a boxer/mastiff mix, and the other holding our boxer/pit bull mix.
Care to join in on the fun? Create a post each day, sharing one thing that you're thankful for that day! Feel free to grab/post the button on your blog so that others can join in, too!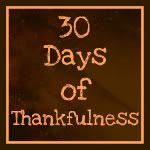 Add the link to your blog if you're joining in on the 30 Days of Thankfulness fun!