Today, I am thankful for PTO (Paid Time Off). As I battle with whether to call in sick today or not, I am glad to have a job and to have one that provides PTO, as well. Although I don't take advantage of it much, not everyone even has that option.
Care to join in on the fun? Create a post each day, sharing one thing that you're thankful for that day! Feel free to grab/post the button on your blog so that others can join in, too!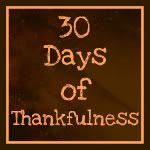 Add the link to your blog if you're joining in on the 30 Days of Thankfulness fun!