I forgot/didn't have time to post yesterday. So here is my make up and today's day of thankfulness.
Day 8 - I was thankful for doctors. They constantly deal with us, healthy or sick. I couldn't do their job and listen to the whining and the stupid questions.
Day 9 - I am thankful to have my Andie home. I really do miss her when she is gone!
Care to join in on the fun? Create a post each day, sharing one thing that you're thankful for that day! Feel free to grab/post the button on your blog so that others can join in, too!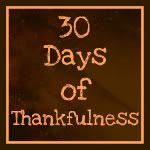 Add the link to your blog if you're joining in on the 30 Days of Thankfulness fun!