Day 27- I am thankful for my wonderful husband who deals with my moodiness. I have been extra hard on myself lately. Why? I don't know, but he has dealt with the resulting moodiness like a champ! He draws me out and even when I can't tell him what's going on, he just snuggles up with me. I truly am lucky to have him!
Sorry babe, it's the best I could do for a moody smurf.

Care to join in on the fun? Create a post each day, sharing one thing that you're thankful for that day! Feel free to grab/post the button on your blog so that others can join in, too!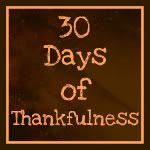 Add the link to your blog if you're joining in on the 30 Days of Thankfulness fun!