Day 28 - I am thankful for ice cream. Yes, that sounds silly compared to most of my posts, but I really do love ice cream. I have avoided it like the plague here lately because I am trying (very unsuccessfully) to lose weight, but I LOVE ice cream. It is my cure all. If I am sick, I want ice cream; if I have heart burn, I want ice cream; if I am depressed, I want chocolate/peanut butter ice cream. Today, I got to have ice cream at work and let me tell you, I savored each delicious bite!
Care to join in on the fun? Create a post each day, sharing one thing that you're thankful for that day! Feel free to grab/post the button on your blog so that others can join in, too!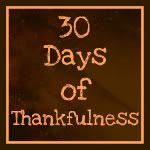 Add the link to your blog if you're joining in on the 30 Days of Thankfulness fun!