Day 24 - I am/was thankful for the time we could take to see my family. My family lives far and wide (as far west as Texas and from Virginia to Georgia), so I was very thankful to be able to take several hours to visit my uncle who came down from Virginia.
Aunt Marcy and her dog Jenha
Uncle Sid and my oldest
Day 25 - I am/was thankful for a day spent decorating or Christmas. I love Christmas and all things Christmas. I am thankful that we were able to get 90% of the decorations up yesterday and extremely thankful to have an understanding husband who made it all happen.
Day 26 - I am thankful to be able to go see the Midway Christmas parade. This allows time for my hubby to take a break from homework and all of us to get out and do something fun. This also allows us time to visit with Mamaw Sink. How many people get to watch a parade from their grandmother/great-grandmother's front lawn?
Us at the same parade 2009
Care to join in on the fun? Create a post each day, sharing one thing that you're thankful for that day! Feel free to grab/post the button on your blog so that others can join in, too!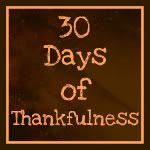 Add the link to your blog if you're joining in on the 30 Days of Thankfulness fun!