Man, I keep slacking off on this, but it is really hard being a working mom and trying to find time to blog, too. I really do like doing the 30 Days of Thankfulness, though.
Yesterday, I was thankful for my girls. (I am thankful for them a lot, but they really got to me yesterday.) Every year, we pack shoe boxes for Operation Christmas Child. Yesterday, all of went to Dollar Tree to pick up some items for our boxes. Both of my girls got $5 each from Mamaw for Halloween and they both chose to use their money to buy items for the less privileged. My oldest bought items that we can send to Sofia, the child that we sponsor in Nicaragua. My youngest bought items for one of the OCC boxes. I love that they are learning how to share the love of Jesus.
Today, I am happy to have been able spend a "grown up" night with all of my family. The hubby and I took our girls with us to see Miracle on 34th Street the Musical at our local theatre. It was awesome to be able to share something like this with them and to see them all dressed up and acting so grown up.
Care to join in on the fun? Create a post each day, sharing one thing that you're thankful for that day! Feel free to grab/post the button on your blog so that others can join in, too!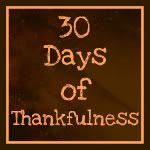 Add the link to your blog if you're joining in on the 30 Days of Thankfulness fun!